Welcome!
My research focuses on ways of enlarging access to the public square by helping journalists think computationally, helping computer scientists become better collaborators, and ensuring that digital media tools work better for all. My approach has focused on engaging students in interdisciplinary computing collaborations aimed at creating civic media that address real community problems.
My current research collaboration, Trenton Makes Music: Cultural Memory, Identity and Economic Development, involves the creation of a digital archive, podcast and social platform documenting the contributions of Trenton music professionals to the music industry, and the role of music in Trenton's economic and cultural development. My partners in this endeavor are Dr. Teresa Marrin Nakra of TCNJ's Music and Interactive Multimedia departments, and singer Sarah Dash. We have been fortunate to attract support from the New Jersey Council for the Humanities and several sources within TCNJ. Our hope is that this project will support efforts to create culturally responsive curricula, to preserve local history and to foster heritage tourism. We also see it as a potential springboard for research on the role of music education in violence prevention. This project began as a First Seminar class 2014, and is ongoing
I am also co-pi for CABECT: Collaborating Across Boundaries to Engage Undergraduates in Collaborative Thinking,which was funded by National Science Foundation grant 1141170. The PI for the grant is Dr. S. Monisha Pulimood, chair of the TCNJ Computer Science Department. The CABECT project tested the hypothesis that students can become more deeply engaged in computational thinking when collaborating with community members to address a real problem. Our pilot project, attempted to make it easier for affordable housing developers and urban farmers to get information on the real and potential pollutants in their soil. The curricular model for the Trenton Makes Music Project draws from this research. This project began in 2012 and will conclude in 2017.
A list of publications and presentations, as well as information on past research projects is available on my research page.
Featured content
Sarah Monisha Pulimood, Kim Pearson, and Diane C. Bates. 2016. A Study on the Impact of Multidisciplinary Collaboration on Computational Thinking. In Proceedings of the 47th ACM Technical Symposium on Computing Science Education (SIGCSE '16). ACM, New York, NY, USA, 30-35. http://dx.doi.org/10.1145/2839509.2844636
Kathleen Webber and Kim Pearson. Community Engaged Learning in Journalism and Multimedia Courses Teaching Journalism and Mass Communication, AEJMC, Summer, 2015
President Obama delivers his valedictory State of the Union Address, BlogHer, January 12, 2016
Of Margo Jefferson's "Negroland" November 15, 2015
What I learned from meeting Maya Angelou: Something is always wanting to come May 28, 2014
Journalism, increasingly, has become a computational profession, and that brings a new set of questions about core journalism values such as fairness, objectivity, and truth itself.  This summer, I started work on a long-form writing project that engages these questions in a novel way – through a multi-media graphic narrative. It's still a work in […]
Whenever I give journalism students assignments that require interviews, it's inevitable that someone will ask whether email interviews are acceptable. And invariably, my responses are: In-person, Skype, Google Hangout or telephone interviews are preferable. A text chat is better than an email exchange. If email is the only option, call it an exchange, not an […]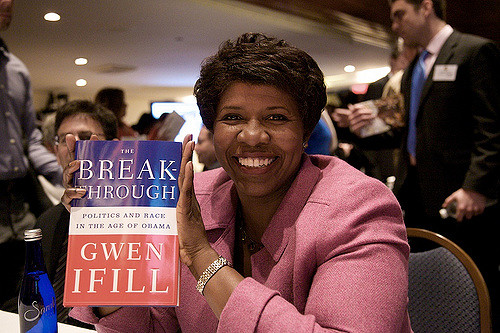 Annual book fair and authors night, National Press Club, 17 Nov. 2009. Photo: Michael Foley
It is with heavy hearts that we share that our dear friend and beloved colleague Gwen Ifill has passed away. https://t.co/9iVlSm1JmZ

— PBS NewsHour (@NewsHour) November 14, 2016
There are many reasons to mourn Gwen Ifill's untimely death today at the age of 61. She was a consummate journalist of the old school variety, who rose through the ranks of newspapers and broadcasting to occupy some of the industry's most respected positions: co-host of the PBS Newshour and moderator of Washington Week in Review. There will be many tributes and assessments of the way she broke ground by demonstrating that there is still a place for shoe-leather reporting, tough interviewing and striving for objectivity in an industry whose desperation for ratings and clicks has raised fundamental questions about its ability to fulfill its civic responsibilities, most notably in the recent Presidential election. I want to focus on one moment that embodied her excellence, her bravery and the difference that can result when we bring diverse perspectives to our national discourse.
During the 2004 Presidential campaign, Ifill made history by becoming the first African American woman to moderate the Vice Presidential debate between Vice President Dick Cheney and his Democratic challenger, John Edwards. Ifill asked a question that exposed a huge blind spot on the part of both candidates. As she later recalled during a September 20, 2016 "Backstory" segment for Washington Week :
At the time, I was trying to figure out, there's only one vice presidential debate, how do I get them to talk about something that's off their topics, something they haven't rehearsed for, something they wouldn't expect? And I came across a number, a statistic about African American, I mean HIV infection among African American women.  Sky-rocketing at the time.  No one was talking about this. And I prefaced my question by saying, 'You've both talked about AIDS in Africa, I want to talk about about AIDS in this country.  Please don't talk about AIDS in Africa. What would you do if you were in this administration about sky-rocketing HIV infections among African American women?' Very specific.
Neither candidate had a good answer. A statement released by the Black AIDS Institute and Essence magazine took both men to task:
Mr. Cheney's response to Ms. Ifill's question was "I had not heard those numbers with respect to African-American women. I was not aware that it was that severe and epidemic there". … The Vice President's lack of awareness about the magnitude of the AIDS epidemic in African American communities speaks volumes about the low priority our government places on the lives of African Americans. …
As for Edwards, Ifill later recalled,
John Edwards' response was, 'Well let me give you my three-point plan for AIDS in Africa.' I found out afterward from people who prepped him for that debate that that was the question they thought I was going to give them — an AIDS in Africa question.  So he didn't even hear the distinction.  He just, it just clicked it. It clicked in.
ACTUP, the AIDS prevention and treatment advocacy group, ran an item about the exchange, noting, "You know the chance of that issue being raised by any of the White men who are moderating the presidential face-offs is slim."
When Ifill talked about that moment, she didn't focus on her identity. For her, it was about considering important issues being left out of the conversation, and making them visible. She said people would still come up to her years later and say, "I loved that AIDS question."
People remember when these candidates reveal themselves for what they are — what they don't know and what they do know.  So I think that's part of the moderator's responsibility — to let the viewers at home know what these guys… are capable of.
Godspeed, Ms. Ifill. You were one of the best among us.
Latest Tweets
Tweets from the Trenton Makes Music project