PI, Trenton Makes Music: Cultural Identity, Memory and Economic Development
Funders: New Jersey Council of the Humanities , College Music Society # Link in context
Community partners: Trenton Public Schools, Trenton Historical Society, Trenton's Conservatory Mansion,  Laura Poll and her volunteers at Trenton Public Library, Beyond Expectations # Link in context
Project co-director: Teresa Marrin Nakra, Associate Professor, Music and Interactive Multimedia Departments, The College of New Jersey
Podcast and event host and co-producer: Sarah Dash
Project website # Link in context
The goal of the Trenton Makes Music project is to document the stories of the people, places and policies that made Trenton a hidden treasure of the music world. We are collecting oral histories, mapping key locations and otherwise documenting this history as a resource for educators, city leaders and other interested stakeholders. It also serves as a test bed and springboard for prospective new education research initiatives. # Link in context

Related posts, publications and presentations
Co-PI, CABECT: Collaborating Across Boundaries to Engage Undergraduates in Computational Thinking, PI S. Monisha Pulimood
Funder: National Science Foundation
Award #1141170
Duration: 2012-2015
Project website # Link in context
Partial abstract To adequately prepare a workforce for the changing economic and global landscape, the project is developing a model that enables students with diverse perspectives and disciplinary backgrounds to learn how to collaborate and integrate concepts from their respective fields to develop technology-based solutions for complex real-world problems. The model includes collaboration with a community partner, making it practical for the many campuses with community engaged learning curricula. # Link in context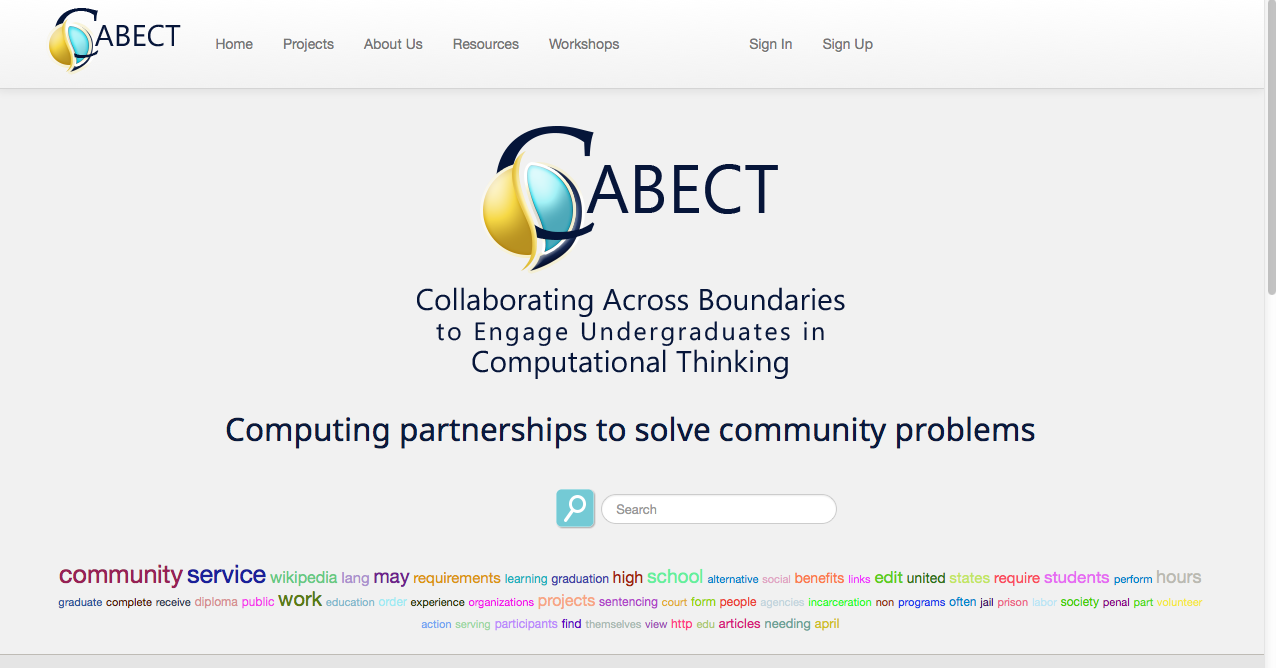 Related publications and presentations
Pearson, K. Pulimood, S. Bates, D. Collaborating Across Boundaries to Engage Journalism Students in Computational Thinking, Teaching Journalism and Mass Communication, Winter, 2017
Pearson, K., Pulimood, S., Bates, D. CABECT: Collaborating Across Boundaries to Engage Undergraduates in Creating Social Media Technologies. Social Media Technology Conference, September 26, 2014, Washington, DC. # Link in context
Pearson, K. Sturgis, I., Fortt, J. Write, Edit. Design. Compute! An Introduction to computational journalism. National Association of Black Journalists, July 31, 2014. Boston, Mass. # Link in context
Pearson, K. Pulimood, S, Bates, D. CABECT: collaborating across boundaries to engage undergraduates in computational thinking. (Abstract only) March 2014 SIGCSE '14: Proceedings of the 45th ACM technical symposium on Computer science education Publisher: ACM # Link in context
S. Monisha Pulimood, Kim Pearson, Diane Bates. Refactoring courseware to engage undergraduates in computational thinking across boundaries January 2014. Journal of Computing Sciences in Colleges , Volume 29 Issue 3 Publisher: Consortium for Computing Sciences in Colleges # Link in context
Co-PI, Distributed Expertise in Enhancing Computing Education With Connections to the Arts – (PI Lillian Cassel, Co-PIs: Tom Way, Steve Harrison, Deborah Tatar
Funder: National Science Foundation
Award #0829616
Duration: 2008-2012
Award abstract: Computing Education is essential not only for Computer Science and its many sibling disciplines(Computer Engineering, Software Engineering, Information Systems, etc.) but for practically all other academic disciplines. Computers are pervasive today and many professionals develop basic programming skills as a way to express ideas, problems and solutions in computational terms within their own disciplines. It is common to find curricula in the arts (music, graphical design), business (accounting, economics), sciences (biology, chemistry, physics), and social sciences with computational courses in their curriculum. In a way, computing is becoming a requirement of most professional degrees. This project addresses both the separation between computing specialists and to widespread integration of computing concepts, not just the technology but computational thinking, in other disciplines. The project will use technologies now commonly available to permit faculty to collaborate in offering courses that extend the potential reach of experts to a broader audience, as well as a collection of recorded expert lectures. In addition, it will develop a visual, interactive interface to a common framework around which to explore similarities and differences across domains and to enable decisions about educational plan development. The teams will also host workshops to identify innovative approaches to teaching, as well as support initiation of new collaborative course experience and reflect of the utility of the courses. The opportunity computing education is to learn how motivated hands-on learning can engage students and provide opportunities to introduce computing concepts. In addition to aiming for diversity in the groups of participating faculty, the project will extend the reach of computing to disciplines not normally associated with that content and will also represent the scope of their discipline to computing students, providing a broader view of the impact of the discipline as it is applied in creative fields. This project addresses the growing conviction that inter-disciplinary approaches are crucial to revitalizing computing education and offers a solution to the need for broader reach of individual areas of expertise. If successful, # Link in context
Related publications and presentations
Related posts on Kimpearson.net # Link in context
Related publications and presentations elsewhere
"Enterprise Journalism: Data Visualization and Mining for Stories," National Association of Black Journalists Convention, August 5, 2011. Philadelphia, PA # Link in context
Thomas Way, Lillian Cassel, Kim Pearson, Ursula Wolz, Deborah Tatar, Steve Harrison. "A Distributed Expertise Model for Teaching Computing Across Disciplines and Institutions", 09/01/2009-08/31/2010, 2010, "Conference proceedings of The 2010 International Conference on Frontiers in Education: Computer Science and Computer Engineering (FECS 2010)". # Link in context
Ursula Wolz, Lillian (Boots) Cassel, Tom Way, and Kim Pearson. "Cooperative Expertise in Support of Multidisciplinary Computing Curricula", 09/01/2009-08/31/2010, "SIGCSE Technical Symposium (SIGCSE 2011)". # Link in context
Thomas Way, Lillian Cassel, Kim Pearson, Ursula Wolz, Deborah Tatar, Steve Harrison. "A Distributed Expertise Model for Teaching Computing Across Disciplines and Institutions", 09/01/2010-08/31/2011, 2010, "Conference proceedings of The 2010 International Conference on Frontiers in Education: Computer Science and Computer Engineering (FECS 2010)". # Link in context
Ursula Wolz, Lillian (Boots) Cassel, Tom Way, and Kim Pearson. "Cooperative Expertise in Support of Multidisciplinary Computing Curricula", 09/01/2010-08/31/2011, "SIGCSE Technical Symposium (SIGCSE 2011)". # Link in context
Ursula Wolz, Lillian Cassel, Thomas Way, Kim Pearson. "Cooperative Expertise for Multidisciplinary Computing", 09/01/2010-08/31/2011, "42nd SIGCSE Technical Symposium on Computer Science Education (SIGCSE 2011)", 2011, "Ursula Wolz, Lillian Cassel, Thomas Way, Kim Pearson. "Cooperative Expertise for Multidisciplinary Computing." 42nd SIGCSE Technical Symposium on Computer Science Education (SIGCSE". # Link in context
Co-PI, Interactive Journalism Institute for Middle Schoolers (Ursula Wolz, PI; S. Monisha Pulimood, co-PI)
The goal of this National Science Foundation - supported
demonstration project
, was to "develop middle school student interest in 21st century writing, media, math and computing skills to motivate and prepare them for careers in computing-rich fields." (Award #
0739173
The Institute consisted of a one-week summer workshop for middle-school teachers, a second week-long workshop in which teachers collaborated with their students to produce a multimedia magazine, and an after-school program . Working with the IJIMS faculty, undergraduate tutor-counselors and volunteers, participants learned to produce text, still images, video and animations programmed in
Scratch.
. Two of the participating teachers obtained their own NSF Research Experience for Teachers grants to pursue action research projects involving the use of Scratch in the language arts classroom.
Related publications, posters and presentations
Related posts on KimPearson.net
Journal articles, blog posts and publications elsewhere
Ursula Wolz, Meredith Stone, Kim Pearson, Sarah Monisha Pulimood, Mary Switzer. Computational Thinking and Expository Writing in the Middle School. July 2011 Transactions on Computing Education (TOCE) , Volume 11 Issue 2 Publisher: ACM
Pearson, K., Wolz, U., Pulimood, S.M., Stone, M. Switzer, M. "Computational journalism in the middle school, Association for Education in Journalism and Mass Communication, August 10, 2010, Denver, Colorado
Pearson, Kim. "Using Computer Science Education Methods to Enhance Teaching Across the Disciplines." Culturally Responsive, Teaching, Learning and Counseling Symposium, University of Colorado Colorado Springs, January 30, 2010
Pearson, Kim. Scratching Across the Curriculum Culturally Responsive Teaching, Learning and Counseling Symposium, University of Colorado-Colorado Springs, Jan. 25, 2010
Pearson, Kim. "Afterword," Black History Bulletin, v.72, 2009, p. 34.
Pearson, Kim. "How Computational Thinking is Changing Journalism & What's Next," Poynter.org, v.May 21, 2009, p. http://po.
Pearson, Kim. "From Civil Rights to Computational Thinking: Thoughts on the 100th Anniversary of the NAACP" Blogher.com, v.Feb. 13, 2009
Pulimood, S. M., Wolz, U., Pearson, K. and Chiusano, A.. "CAFE: A Collaboration and Facilitation Environment for Engaging Students in Computer Science," In Proceedings of the 40th ACM Technical Symposium on Computer Science Education (Chattanooga, TN, USA, March 04 - 07, 2009). SIGCSE '09. ACM, New York, NY, 4-8., 2009, p. 570.
Pearson, Kim. "The Changing Newsroom" Blogher.com, v.July 22, 2008,
Pearson, Kim. "Report From the Scratch@MIT Conference: Empowering Everyone With Technology and Media," Blogher.com, v.July 27, 2008, p. http://ww.
Wolz, U., Stone, M., Pulimood, S. M., and Pearson, K.. "Computational thinking via interactive journalism in middle school.", 09/01/2010-08/31/2011, "41st ACM Technical Symposium on Computer Science Education", 2010, "Milwaukee, Wisconsin, USA, March 10 - 13, 2010. SIGCSE '10. ACM, New York, NY, 239-243".
Videogame Curriculum Development
Related publications and presentations
Peer-reviewed articles and presentations 1. Chris Ault, Teresa Marrin Nakra, Kim Pearson, Phillip Sanders, Ursula Wolz. Collaborative Learning via 3-D Game Development, SIGGRAPH, 2006. ACM SIGGRAPH Educators Program http://dl.acm.org/citation.cfm?doid=1179295.1179300 2. Ault, C., T. Nakra, K. Pearson, P. Sanders, & U. Wolz (2006). Video Game Design as a Vehicle for Multidisciplinary Collaboration. NMC Summer Conference, Cleveland, Ohio. Blog posts Posts related to game design on Kimpearson.net
Visible Knowledge Project
Related presentations and publications
I developed an action research project, "Blogging on the Beat," to test the hypothesis that blogging can be a tool for improving student reporting in the feature writing classroom. Much of the site has since been removed, including the research poster that I created. This
2004 write-up on the "Crooked Timber" blog
summarizes what I learned:
Blogging on the Beat
Remember when filmstrips were going to revolutionize teaching? If we focus on the medium alone, blogging in the classroom will be just as much of a snore as the Jurassic classics that were so brilliantly lampooned on The Wonder Years. As with any teaching tool, the value of blogging in a particular class depends on the learning goals of that class. I first used blogs in my feature writing class in the fall of 2003, as part of an action reseach project with the Visible Knowledge Project — a consortium of faculty studying the impact of technology on teaching and learning. I had students use the blogs as beat reporting journals, and I hypothesized that being forced to read and reflect on news relevant to their beats would result in more richly sourced stories. You can see the initial results of that project in this online poster. In reviewing a select group of students' portfolios and responses to a survey I disseminated at the end of the semester, I found that the success of the experiment depended on how well students understood the goals of the class, and the place of the blogging assignment in the context of those goals....
Small Murders: An investigation of journalism coverage of hate crimes
From 2002-2005, I became interested in the way news media make decisions about covering lgbt-related murders, spurred initially by criticisms by conservative media commentators about the failure to accord national media attention to the grisly 1999 murder of 13-year-old Jesse Dirkhising. I shared my thoughts about that in
this 2004 blog post.
Then, in the early hours of May 11, 2003, 15-year-old Sakia Gunn was stabbed to death on a Newark, New Jersey sidewalk in what would become New Jersey's first bias crime homicide prosecution. Using my blog as a reporting and knowledge management tool, I tracked the coverage of the Gunn murder up to the conviction and sentencing of her killer. This coverage eventually led to some national interviews and a chapter in the book,
News and Sexuality: Media Portraits of Diversity
(Sage, 2005)
Related publications and presentations

Research by Kim Pearson is licensed under a Creative Commons Attribution-NoDerivatives 4.0 International License.