The Democratic National Convention took place from July 25-28 in Philadelphia PA, and while everyone was focused on the protests over the nomination process, there were some conflicts over decisions made by the DNC and the local host committee. One particularly contentious local issue that got little national attention was the DNC's and Philadelphia mayor's deal with the Uber ride-sharing service. Local taxi and Uber Black drivers have been protesting for more than a year that competing ride services should be required to adhere to the same rules and requirements to which they are subjected. # Link in context
According to the protesters, the DNC deal with Uber belied the Party's stated commitments to workers and members of vulnerable populations.  Philadelphia taxi union president Ronald Blount told Fusion : "They're supposed to represent us working people, people who are less fortunate, people with disabilities, but it's like they're just rolling over for a shrimp cocktail and a ham sandwich."

As a disabled journalist, I found myself directly affected by this dispute as I navigated the Convention. While I found demonstrable efforts to make the Convention accessible for those inside the Wells Fargo Arena and Philadelphia Convention Center – the primary locations where Convention activities took place – the preferential treatment accorded Uber put me in a position that could have turned out very badly. # Link in context
"The Most Accessible Convention Ever"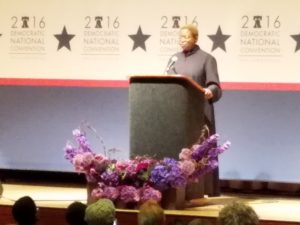 Covering a major political party convention takes planning – even more so when you are doing it solo and you have a disability that impairs your mobility. So, I paid close attention to the press release that landed in my email inbox July 20th, outlining the steps that the Democratic National Committee was taking to assure that this would be, in the words of the press release headline, "the most accessible convention ever." The release listed the measures taken by the DNCC, in conjunction with the Philadelphia Convention and Visitors' Bureau to assure accessibility. It was an extensive list. that included everything from structural modifications to the convention venues, to masks for chemical sensitivity, reachers, tactile maps, etc. As for transportation: # Link in context
Transportation: Daily transportation will be provided to the Wells Fargo Center and Pennsylvania

Convention

Center from all state delegation hotels. Each state delegation will receive ADA accommodations to ensure a safe and seamless shuttle service to and from

convention

-related proceedings, including Golf Cart transfers from the security entrance to the building entrance at the Wells Fargo Center.
I live in the area, so I take taxis when I am traveling alone at night. I don't use Uber or Lyft because I can't count on them to be helpful or patient with me. Their reputation for accessibility is not good.  I had the number of a couple of drivers and companies that I was accustomed to calling.   I told one of them that I would probably be calling him. "I might not be able to get to you," he said.  I was sure he was mistaken – the literature I'd been given, and the DNCC website clearly stated that it would be possible to get to and from the Wells Fargo Center, the principle Convention site, by taxi. # Link in context
The daily media routine at the DNC
The DNC actually took place at two separate locations, about five miles apart. The televised evening events were at the Wells Fargo Center in South Philadelphia, while morning and early afternoon press briefings, caucuses, committee meetings and community events were at the cavernous Pennsylvania Convention Center. # Link in context
Reporters picking up credentials for the Democratic National Convention had to line up outside of this small room at the Convention Center. Not all credentials were created equal. To get to into the Wells Fargo Center as a journalist, you have to have a Secret Service -approved photo badge. The people lined up on the right of the photo are waiting to pick up their credentials. In addition to the Secret Service badge, you have to get a pass giving you access to the Wells Fargo center. Some people get badges that automatically confer access to the Convention floor and press gallery and tent throughout the Convention. Some get daily access. My badge entitled me to daily access to a public, overflow area behind the stage. As I went to through the line each day, I heard journalists from domestic and international outlets on the phone with their bosses, trying to upgrade their access. # Link in context
The credentials staff got to know me. I was allowed to sit until it was my turn in line. By day three, I could be in and out of that room inside of 10 minutes. # Link in context
By the way, if you wanted to know what Jerry Springer was doing at the Convention Center,  check out this interview with the Young Turks. # Link in context
Drivers protest Uber: "This is an example of what's wrong in politics."
After Monday night speeches at the Wells Fargo Center,  Pennsylvania  delegates were shuttled back into Center City's Doubletree hotel for a party hosted by Uber. There, they were met by protesting taxi and limousine drivers from the Fair Ride Philly Coalition.
According to the Fair Ride Philly announcement of the protest: # Link in context
One of the main concerns of picketers is the recent deactivation of 17 Uber Black Limousine drivers that the coalition believes were retaliated against for their organizing for fair wages. Moreover, the deactivation is a microcosm of the broader problems of a company that inserts itself into the city's transportation system with absolutely no regulation. Rida Ahmad a limousine driver for Uber explained his dire situation, "Uber has wrongfully retaliated against me and put me in $70K debt." He continued, "I can't appeal or do anything because there are no proper regulations. I blame PA Democrats because they gave temporary permission for Uber's ride-sharing service to operate without any rules or laws." # Link in context

Connecting the plight of Limo drivers to the plight of cab drivers, Ron Blount, the President of the Taxi Workers Alliance said, "This is an example of what is wrong in politics." He continued, "Uber is attempting to buy and bribe the political process so the multi-billion dollar company can get away with refusing to pay the minimum wage, stop workers from unionizing and refuse to offer service to the disabled." # Link in context
According to the Philadelphia Business Journal story, Uber maintains that the 17 deactivated drivers were dismissed because they were falsifying their locations in order to collect higher fares. The drivers deny the charges. # Link in context
At 9 am the next morning, members of the Fair Ride coalition pleaded their case again with the Philadelphia Parking Authority. Replay the Facebook live video of that session. # Link in context
Meanwhile, I opted not to go to the Wells Fargo Center Monday night, because there were heavy lightning storms. Instead, I hung out at a Convention Center watch party and caught a cab ride home with one of my regular drivers when the storms ended. # Link in context
At the Wells Fargo Center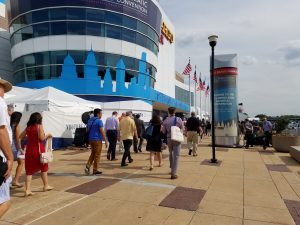 On Tuesday, the day that Secretary Hillary Clinton became the official Democratic Party nominee, I made it to the Wells Fargo Center. As soon as I came through the security tent at the Wells Fargo Center, a staff member greeted me and offered to hail  a golf cart to take me to the door of the Convention. Not everyone was so lucky.  According to this story from Philadelphia's NBC affiiliate, one Idaho man had to rely on his fellow delegates to help him over a curb at the Wells Fargo Center. The curb cut was blocked by a security fence erected to keep protesters at bay. # Link in context
Entering the Wells Fargo Center is like coming upon a media bazaar. There's a carnival of broadcast outlets, but instead of barkers, there are interns and production assistants button-holing people for interviews. I've got some more walking to do to find my assigned spot. # Link in context
I'm almost in the top tier, on the right side and behind the stage. To see the speakers, I have to look at monitors on the side of the stage backdrop. I can see the bank of major print and online reporters on the floor working at tables with power outlets. I had almost been allowed by one volunteer,  but then another volunteer looked at my badge, consulted a color-coded chart and sent me up here, which is regular stadium seating.  I'm texting with delegates to line up interviews, but I have to persuade them to leave the floor. I can see the roll call, hear the excitement. I can also see some of the rows of seats empty out right after Sen. Bernie Sanders calls for Clinton's nomination by acclamation. I get a text from a newspaper reporter friend about the protest in the media tent, but I've been told I don't have access to it. I don't even know where it is.

So, I'm alternating between the crow's nest and the main floor, catching people in the hallways and elevators.  When I get back, the seats are gone, and a Convention staffer is trying to hand me a Hillary poster to wave after the roll call. I hold up my  press badge and say, "I can't. I'm a journalist." Everyone else, even the people who have been tapping away on the laptops on their knees the whole time, has a sign. # Link in context
Any way,  below are some of the images I gathered while running  back and forth between the crow's nest, hallways and elevators.  And here's an interview I did in the hallway with a Bernie Sanders delegate, right after the roll-call vote. # Link in context
Taxi? What taxi?
At the end of the night, I asked the Wells Fargo staff for directions to the taxi stand. "Uber is right across the street, past the security tent.," they say. "Not Uber, the taxi stand. They look at each other, confused. So does the man who meets me when I get out of the golf cart at the end of the security perimeter. So do the people at the lot, where there is a very big Uber sign. Okay, if there's no taxi, how about a shuttle, I ask?  I get directed to a tent where mercifully, someone tells me that the only shuttle available there are to take employees to a distant parking lot. Nobody seems to know about any lot for taxis. # Link in context
A police officer tells me to take the subway – the subway I didn't want to take because the stop where I would have to get off doesn't have an elevator,  and getting home from there involves walking several blocks. But it's nearly midnight, and no one can come get me. Maybe, one Wells Fargo staffer offers, I can get a taxi from the Holiday Inn at Packer Avenue, a mile away. # Link in context
I take my chances with the subway, which people are running for as if it's the last train that will ever be come to any subway station ever.  The operator sees me and holds the door for until I board. A nice couple from Jersey who is volunteering at the Convention offers me a seat. They are taking the train back to City Hall and picking up their car from a lot there. # Link in context
I make it up the steps down the four long blocks to home. The streets and tunnels are empty except for the people who have had to make their beds there for the night. The step counter on my phone registers 22,549 steps. Thank God for Epsom Salts. # Link in context
The next day, I read that the taxi and Lyft drivers are complaining about being Uber staff denied them the ability to pick up and drop off customers at the arena. According to the Philly.com story on the dispute: # Link in context
Most car services were allowed to drop off passengers at the Wells Fargo Center at Lot V, while Ubers were assigned to Lot T, DNC spokesman Lee Whack said, adding that all legal car services had access. # Link in context

"Any and every legal transportation service has access to the parking lots of Wells Fargo Center to pick up and discharge passengers," he said. # Link in context
I'm here to tell you that none of the people I talked to Tuesday night knew anything about a lot V. No signs pointed to a lot V. I took a very big chance that night, and I was fortunate. Needless to say that my family and friends were livid when they found out what happened. I did get a lecture that I should have just downloaded the Uber app, but that wasn't a solution at 11:30 at night in a dark parking lot among strangers. # Link in context
Putting on  a Convention is a complex endeavor, and I'm not mad at anybody. But complex undertakings often lead to unintended consequences, and this is just one example. # Link in context
I watched the rest of the Convention on television. # Link in context

The DNC and the politics of accessibility by Kim Pearson is licensed under a Creative Commons Attribution-NoDerivatives 4.0 International License.