"Sometimes, you must live into the question until you live into the answer."
– Manfred Halpern, late professor of Politics at Princeton University, and one of my mentors.
Since 1996, I have been collaborating with faculty members and students at The College of New Jersey to create virtual media enterprises that help us understand new publishing technologies, their impact on journalism and storytelling, and the implications of new technologies on the functioning of democratic institutions and the cultural production of ideas.  I always begin with personal experimentation. Over the years, that has  involved hands-on learning  with website design, multimedia storytelling blogging and social media.  Since 2005, I've been blessed with  a marvelous group of collaborators in computer science, educational research,  and media who have helped me explore these questions in greater depth than I could ever have managed alone. As a result of those collaborations, I have become increasingly engaged by the challenge of defining what it means for journalists to do computational thinking,  how those skills can best be instilled.  More importantly, I am deeply preoccupied with what it means to be an ethical and reflective media practitioner.  This narrative summarizes that journey.
1996- 2009 Virtual enterprises and collaborative environments
Initially, I worked with an art professor Elizabeth Mackie to direct students in the creation of unbound, an online news magazine that continues as a student publication.  Since 2006. unbound has been a site for experimentation in the development of content management systems,  part of a collaboration with computer science professor Monisha Pulimood.  In 2008 Dr. Pulimood and her students built the Collaboration and Facilitation Environment (CAFE), to support work produced as part of our interactive journalism institute for middle schoolers, a project funded by the National Science Foundation, which is described below.
2003-2005: Small Murders
The 2003 murder of Sakia Gunn, 15, was the killing to be prosecuted as a bias murder under New Jersey's hate crime laws. It was also a dramatic episode in her hometown of Newark, New Jersey, where hundreds of young people, largely said to be lgbt teenagers of color, staged vigils in the days after her murder. More than 2500 people showed up for the funeral of the aspiring basketball star, including then-mayor Sharpe James and other dignitaries.
Despite this, and the fact that her name became a rallying cry for lgbt activists across the country — especially those of color — the case received scant press coverage.  In newsroom lingo, it was treated as a "small murder" — deserving cf scant coverage because it was not considered likely to be of interest to the advertiser-attractive consumers of most news outlets, even among lgbt and African American media.
I used my blog to document and investigate the news coverage of the murder. (Lexis Nexis stats here compare the number of stories in major newspapers about the murder of Matthew Shepard to all of the news stories about Gunn during each month in the first year after their respective killings.)
I learned a great deal from this project about the emerging nature of "spreadable" media as I saw my blog posts being linked to by activists, journalists and others. I found myself being approached by "Democracy Now!" and other news outlets about the data I had compiled.  It became clear that the blogosphere was one means by which people who felt marginalized by mainstream news coverage were trying to make their voices heard. One of the outcomes of the project was a chapter in the book, News and Sexuality: Media Portraits of Diversity, eds Laura Castenada and Shannon B. Campbell (Sage, 2005) This book is used in college classes studying diversity in journalism.
2004-2009 Game curriculum development project

With start-up funds from Microsoft Research, we have created a two semester interdisciplinary sequence in game design and production. I was part of the team that wrote the initial grant, and have helped to develop, deliver and refine the curriculum over the last five years. As part of the project, I have delivered lessons on interactive storytelling and quality management. The video above is a documentary made after the first year of the project.
Details and information on some of the games that have been created at these links:
2004-5: The Big Game: UFO, NJ
2005-6: Verona
TCNJ Games Wiki
This work now continues as part of the cPATH Distributed Expertise project based at Villanova University, for which I serve as a co-PI.
2005-2007 Fashioned By Love: the Life of Nancybelle Valentine
In 2oo5, I became captivated by the story of Nancybelle Valentine,  the former design patternmaker for Liz Claiborne who was that designer's first employee, and who was integral to initial success of the Liz Claiborne corporation. What particularly excited me was the fact that she had a treasure trove of family photographs by the noted Harlem photographer James Vanderzee, as well as original sketches of Claiborne's designs with notes written to her in the margins.  I began building this website in 2005, working on it intermittently over the next year.  Conversations with my colleague Ursula Wolz convinced me to think about more dynamic ways of presenting Ms. Valentine's story than the static website that I was building.  We agreed to work on a storytelling engine that would facilitate the creation of multithreaded narratives, using Nancybelle's story as a testbed.  In a May, 2007 entry on the Nancybelle Project blog, I explained:
The goal of the Nancybelle project is to create a new form of scriptwriting for interactive, database-driven journalistic narratives. My method is an iterative re-visioning of a magazine profile as a dynamic multimedia presentation. I am using a prototype story that would normally be suited to a magazine feature, but is of sufficient complexity and depth that it can be constructed along several story threads.

There will be multiple story threads that will serve as points of narration. The writing method that I am working to create will integrate the conventions of journalistic storytelling with the structural requirements of database content, for incorporation into a storytelling engine being developed by my colleague Ursula Wolz, a computational linguist and veteran game developer.
The project has not moved far beyond the conceptual stages, due to a lack of resources. However,  Ursula and I presented our ideas at a June, 2007 breakout session of the New Media Consortium Summer Conference.  You can view the slides from that presentation. We were able to develop our thoughts further in an invited paper that was incorporated in the conference proceedings. (.pdf format; pages 38-44) I also wrote this brief summary of our project for Poynter. Org, which elicited some interesting feedback.
This is a trailer that I created for the project using video and photos taken by my students or loaned to us by Nancybelle:

2007-2010 Interactive Journalism Institute for Middle Schoolers (IJIMS)
The IJIMS project is an effort to interest middle school students who don't think of themselves as "computing types" in computer science by getting them involved in doing interactive journalism about their community. In 2008, the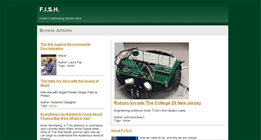 project began with a weeklong summer institute for teachers,  after which the teachers assisted us in leading 16 rising 8th graders through a second weeklong institute.   The student and teachers produced a multimedia online magazine that included story packages on politics, technology, science, business and entertainment. Each story package consisted of a text story, still images, video, and interactive graphics programmed Scratch, a language created by MIT's Lifelong Kindergarten Lab.   So far, the positive results of the project have exceeded our expectations.
The IJIMS project is funded by the National Science Foundation's Broadening Participation in Computing Program. Ursula Wolz is the principle investigator; Monisha Pulimood and I are co-PIs.  The MIT Center for Future Civic Media is a partner in the project.  Visit TCNJ's IJIMS website for more information.
2008-2012 : Distributed Expertise in Computing With Connections to the Arts
2010: The Re-Education of Me