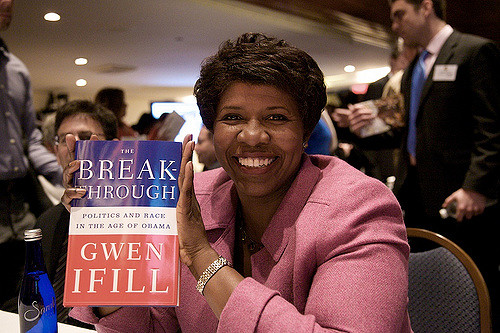 It is with heavy hearts that we share that our dear friend and beloved colleague Gwen Ifill has passed away. https://t.co/9iVlSm1JmZ

— PBS NewsHour (@NewsHour) November 14, 2016
There are many reasons to mourn Gwen Ifill's untimely death today at the age of 61. She was a consummate journalist of the old school variety, who rose through the ranks of newspapers and broadcasting to occupy some of the industry's most respected positions: co-host of the PBS Newshour and moderator of Washington Week in Review. There will be many tributes and assessments of the way she broke ground by demonstrating that there is still a place for shoe-leather reporting, tough interviewing and striving for objectivity in an industry whose desperation for ratings and clicks has raised fundamental questions about its ability to fulfill its civic responsibilities, most notably in the recent Presidential election. I want to focus on one moment that embodied her excellence, her bravery and the difference that can result when we bring diverse perspectives to our national discourse.
During the 2004 Presidential campaign, Ifill made history by becoming the first African American woman to moderate the Vice Presidential debate between Vice President Dick Cheney and his Democratic challenger, John Edwards. Ifill asked a question that exposed a huge blind spot on the part of both candidates. As she later recalled during a September 20, 2016 "Backstory" segment for Washington Week :
At the time, I was trying to figure out, there's only one vice presidential debate, how do I get them to talk about something that's off their topics, something they haven't rehearsed for, something they wouldn't expect? And I came across a number, a statistic about African American, I mean HIV infection among African American women.  Sky-rocketing at the time.  No one was talking about this. And I prefaced my question by saying, 'You've both talked about AIDS in Africa, I want to talk about about AIDS in this country.  Please don't talk about AIDS in Africa. What would you do if you were in this administration about sky-rocketing HIV infections among African American women?' Very specific.
Neither candidate had a good answer. A statement released by the Black AIDS Institute and Essence magazine took both men to task:
Mr. Cheney's response to Ms. Ifill's question was "I had not heard those numbers with respect to African-American women. I was not aware that it was that severe and epidemic there". … The Vice President's lack of awareness about the magnitude of the AIDS epidemic in African American communities speaks volumes about the low priority our government places on the lives of African Americans. …
As for Edwards, Ifill later recalled,
John Edwards' response was, 'Well let me give you my three-point plan for AIDS in Africa.' I found out afterward from people who prepped him for that debate that that was the question they thought I was going to give them — an AIDS in Africa question.  So he didn't even hear the distinction.  He just, it just clicked it. It clicked in.
ACTUP, the AIDS prevention and treatment advocacy group, ran an item about the exchange, noting, "You know the chance of that issue being raised by any of the White men who are moderating the presidential face-offs is slim."
When Ifill talked about that moment, she didn't focus on her identity. For her, it was about considering important issues being left out of the conversation, and making them visible. She said people would still come up to her years later and say, "I loved that AIDS question."
People remember when these candidates reveal themselves for what they are — what they don't know and what they do know.  So I think that's part of the moderator's responsibility — to let the viewers at home know what these guys… are capable of.
Godspeed, Ms. Ifill. You were one of the best among us.