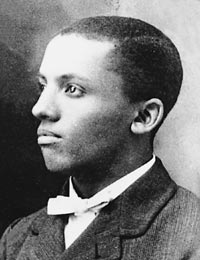 The programmers at MIT's Lifelong Learning Lab who created the Scratch programming language for novice programmers have come up with new "ask" and "answer" blocks. I decided to try them out by creating a guessing game about Black History Month.
I am thinking of creating some additional games using Carter G. Woodson to introduce other historical figures. Feedback is welcome.
Here are my project notes from the Scratch website:
Carter G. Woodson (1875-1950) was a son of slaves who became the second African American to earn a Ph.D. in History from Harvard University. At that time, history books did not include contributions made by Africans and people of African descent. To fix this problem, Woodson founded the organization known as the Association for the Study of African American Life and History in 1915. He began publishing books, magazines and journals about black history.

In February, 1926, Woodson started Negro History Week to encourage schools to teach students about this neglected subject. He chose February because of the birthdays of two men who played key roles in ending slavery in the United States: Abraham Lincoln (February 12) and Frederick Douglass (February 14). In 1975, the United States Congress decided that the entire month of February would be known as Black History Month.